Hello there! My name is Marta Cerioli, I am italian but I am living in Poland since two years. Now, you guys are probably wondering what is an italian girl of 22 years old doing in Warsaw. Well, it might sound like a joke, but I am a ballerina at the Teatr Wielki Opera Narodowa…no seriously, italian people can be in shape too!!
Unfortunately, italian habits are not always the best for me because I should pay attention to my diet, not only because of my weight but because my body needs to work 100% during my training. An easy example to show what I mean is breakfast: it is a typical italian tradition to have sweet breakfast, like milk with cookies or croissant with cappuccino, but this italian habit is not good because my body needs some protein in the morning. Having a sweet breakfast means to have a glycemic decline soon, it means that the sugars in my blood is going down and my body starts to feel tired, my mind is not lucid and my stomach is asking again for more food (PIZZAAAA!). But here again our mistake: italian people love carbohydrates and we have the tendency to eat a lot of carbs without balancing them with some proteins. Since when I am living here in Poland I started to eat different and even drink differently. No guys, don't think badly about ballerinas, we are not alcoolic…I meant tea! Well yes, since when I am here my body is asking for hot beverages like tea to get warm; in Italy if someone see that I am drinking hot tea they would probably ask me if I am sick or if my throat is hurting! We really don't have this tradition but coming here I understood how is important for my body to stay hydratate and warm, especially for my job, where I am losing a lot of liquids and minerals.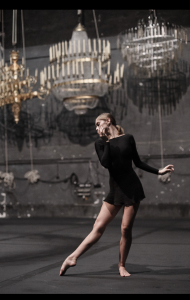 Another good habit that I got coming here is to drink soup before every meal: in Italy the soup is the typical dish that mum cooks for you when you are sick or if outside is "really cold" (really cold in Italy is probably "spring is coming" for polish people, sorry guys, be patient with us!). Poland is teaching me a lot about how to stay an healthy and strong ballerina: Poland, I owe you a favor! That's why I want to share with you the recipy of my favourite dish, Risotto (seriously, who doesn't like risotto??)! It is not the official recipy, but it is how my Grandma Laura prepares it and I always call it "Risotto della Nonna Lalli". Here there is what you need for 4 people:
-1 white onion
-half glass of white wine
-saffron
-risotto rice
-1 vegetables cube
-extra virgin olive oil
– parmesan
So, to prepare this risotto you should cut the onion (you can cut in bigger or thiner pieces following your preferences) and mix it in the pot with a little bit of olive oil untill when it gets a little darker and starts to smell delicious! Then, add the rice in the pot (usually two handfuls for each person, so 8 handfuls for 4 people) and you should mix it with the oil and the onion to make it "shine" in the oil. After a minute, add the white wine in the pot and let the rice absorbe it for couple of minutes. Then add two big cups of water in the pot, wait till everything is boiling and add the vegetable cube. The risotto should be "al dente", so it should cook around 15/20 minutes (if it is getting stuck to the pot, add more water and mix it). Then, the last minute you should low the fire till the minumum and add saffron and a lot of parmesan to make it creamy and tasty! Then, present your dish with some more parmesan on top and a glass of red whine…buon appetito!